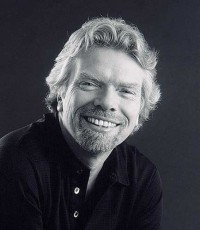 Sir Richard Charles Branson was born in Surrey, England in 1950. Dyslexic and saddled with poor academic performance, he nonetheless attempted two ventures at age 15: growing Christmas trees and raising budgerigars. Both ventures failed.

He didn't have to wait long for his first successful venture, though, which came at age sixteen when he launched Student magazine. In 1970, at age 20, he set up a mail-order business record. The following year, he opened a now famous chain of record stores, Virgin records, later known as Virgin Megastores.
Thanks to his competitive style, Branson's Virgin brand grew rapidly through the 1980's, as he opened Virgin Atlantic Airways in 1984 and developed the Virgin Records music label. The record company's first release was Mike Oldfield's Tubular Bells, which was a best-seller and topped the charts worldwide in 1973. With the same flair, Branson signed scandalous band Sex Pistols, which other major labels had refused to sign.
In 1988, depressed by the poor results of his music company on the stock market, Branson wanted by buy Virgin Music shares back for the same amount of money, valuing the company at $484 million. The shareholders agreed, although they were unaware that Branson had already agreed to sell the same shares to Pony Canyon, a Japanese media venture, for $735 million.
But in 1992, in order to keep his airline company afloat, Branson sold his cherished Virgin label to EMI for $1 billion. According to lore, Branson wept when the sale was completed. The record trade, after all, had been at the core of his Virgin empire. In 1996, Branson re-entered the music trade with V2 Records. He signed the bands Stereophonics and The White Stripes, among others, before the company was bought by Universal Music Group.
Branson's was knighted in 1999, like his grand-father before him). His business empire is owned by a complicated series of offshore trusts and companies. The Sunday Times stated that his wealth is estimated at $5.9 billion.