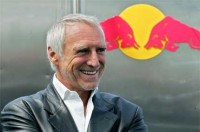 It took Austrian businessman 10 years to graduate from Vienna University with a marketing degree, a snails pace by most standards. But the Mateschitz has been on a fast track towards business success ever since.
After a short stint with Unilever, Mateschitz moved to Blendax, a German cosmetics company since purchased by Procter and Gamble.
Mateschitz marketed Blendax toothpaste, among other products. In 1984, during a Blendax business trip to Thailand, Mateschitz discovered the drink that would later become Red Bull.
While in a Bangkok hotel lobby, he took a sip of an energy drink lorry drivers loved to drink for its stimulating virtues, "Krating Daeng," or Red Bull. Mateschitz is impressed with the effect the drink has on his jet-lagged body.
Mateschitz teamed up with "Krating Daeng" inventors, Chaleo and Chalern Yoovidhya, and launched Red Bull in Austria in 1987. Today Red Bull is the world leader among an increasing list of highly popular energy drinks. In 2007 Red Bull sold 3.5 billion of energy drinks worldwide, generating $4.9 billion in sales.
In 2004 Mateschitz purchased the Formula One team Jaguar Racing from the Ford Motor Company and eventually named it Red Bull Racing. Towards the end of 2005, Mateschitz joined forces with former Austrian Formula One driver Gerhard Berger and bought the Italian-registered Minardi team from Paul Stodart.
He also owns a NASCAR Sprint Cup team called Team Red Bull, which fields two Toyota Camrys for drivers Brian Vickers and A.J. Allmendinger.
In April 2005, he purchased the Austrian soccer club SV Austria Salzburg and in 2006, he bought the American soccer club New York MetroStars. Both clubs were later renamed after his famous drink, as Red Bull Salzburg and Red Bull New York.
Mateschitz belongs is among the 400 richest people on earth, according to Forbes magazine. With a fortune estimated at $3.8 billion, he embodies the Austrian version of a self-made man.