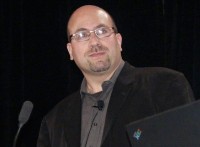 Craig Alexander Newmark, born December 6, 1952 in Morristown, New Jersey, is an Internet entrepreneur best known as the founder of the San Francisco-based Web site Craigslist.

Newmark attended Morristown High School and graduated from Case Western Reserve University with a Bachelor of Science in Computer Science.

Newmark has been a vocal advocate of keeping the Internet free. He has donated $10,000 to a non-profit group, NewAssignment.Net, which plans to combine the work of amateurs and professionals to produce investigative stories on the Internet.
Newmark resides in San Francisco's Cole Valley and is active at Craigslist in customer service, mostly dealing with spammers and scammers.