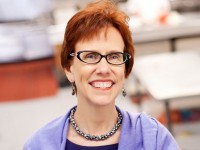 When Meme Pederson talks about putting on a dinner for the President of the United States, she does so rather casually. "There are the security concerns and all of that," she says, "but mostly you have to consider the likes and the dislikes. For example, Bill Clinton doesn't really like chocolate because he's lactose intolerant." As co-founder and CEO of Taste Catering, headquartered in San Francisco, Ms Pederson is at the helm of one of the most respected and reputable San Francisco corporate caterers and party planners in the country. They host 700 events a year—from a intimate dinners for foreign dignitaries to a Fortune 500 company picnic for thousands—and their client list ranges from Gucci to Yahoo.
Pederson was born and raised in an Iowa town of 22,000 called Burlington. She moved to the Bay Area in the mid 70s to attend Mills College in Oakland and after school, she noticed that she was living in exciting culinary times. "I got involved in catering in the late 70s and it was an exciting time in terms of food in the Bay Area and California," she says. "It was really a food renaissance at that time."
The women who owned the catering company she worked for at the time decided to get out of the business and Pederson seized the opportunity, making moves to purchase their company. She did research and consulted with a friend on a business plan, even collaborating with her husband until she thought better of it. "My husband and I have a great marriage, but I wasn't sure it could survive making a business plan together," she laughs.
Now, Taste Catering has grown in capacity and reputation to the point that when Christina Aguilera needed a Bay Area wedding caterer , she contacted them. Pederson laughs that at the time, she didn't know who Aguilera was until her daughter told her.
An Internet search of Taste Catering will yield countless rave reviews from glowingly satisfied clients. Words like "creative" "innovative" and "fresh" jump out among funny exasperations like, "Oh, Taste! You've ruined me for all other caterers. You set an impossible standard."
When asked to explain the overwhelming enthusiasm for her company, Pederson gives a simple answer. "It's really the food. We work directly with the farmers. I don't know of any other caterers who do that. That's really important to us." She pauses before introducing the other component. "Number two is service and I mean service in the amount of time that we put in with out clients. Not just our service staff or our culinary staff either, I mean even the principles in the company and we really go the extra mile in working with people."
The company has encountered its share of challenges in the past 30 years, most notably the dot com bust of the late 90s. The Bay Area was especially hard hit and the crash marked the end of a particularly opulent era and boom times for Taste.
Today, Pederson is dealing with a recent court ruling upholding a San Francisco health care measure that mandates all private employers with 20 or more employees to pay an assigned amount of money to the city for health coverage. Critics of the measure call it a devastating decision that is bad for business in San Francisco. Pederson is among those critics. "Everyone wants people to have health insurance, but it's hard when it's put on the back of small business. We do offer our staff insurance but then to have this added on—that's tough in this business climate," Pederson says.
When pressed to name what she considers the most elaborate party she's ever put on, Pederson has to think for a while. Then she laughs. "You know, when you've been in this business as long as I have, sometimes is the last event that you did seems like the most elaborate." She goes on to say that she thinks it's incredible that she's even found herself in this line of work. "As I said, I grew up in a small town in Iowa. I never in a million years thought I would be in this business. I don't even think I really knew what a caterer was growing up. Putting on dinners for presidents and dignitaries: that over the top! I never expected to do that! So, for me every day is a new day and exciting."
Pederson goes on to share one secret of Taste's success. Every day at 12 o'clock, they turn off the phones for half an hour in the office and have lunch together. "We're a family," she says. "And the family that eats together, stays together. I really believe that."