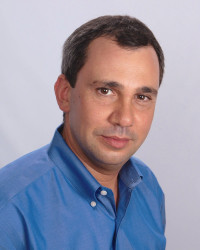 Personal Experience Questions
1. Please explain your daily role at BooXkeeping Franchise.

Being a CEO means wearing different hats. My tasks vary from working on a strategy for BooXkeeping Franchise to talking with potential franchisees to updating the training manual. Whatever I'm doing, the goal is always to grow value for franchisees and employees and to grow personally.

2. How did you come up with the idea for your business?
During the recession of 2009-2012, I was looking to outsource bookkeeping function for one of my service businesses. I've pulled the list of 20 local bookkeepers of the Internet and reached out to them. About half of them didn't even get back to me or complained that they are too busy to take on new clients. The other half gave me the range of prices from $200 to $1,300 for exactly the same scope of work. That's when we got an idea that it was time to bring the new life to the old profession and to make bookkeeping cool again!!
After 7-8 years of running and growing BooXkeeping, the decision was made to franchise it, and to share our experiences, do's and dont's, proprietory software, policies and procedures, and the enterpreneurship spark with new and existing business owners.
3. What motivates you most to achieve business success?
 
An opportunity to help our franchisees and employees to grow, and to grow personally!
4. Is your blueprint for success based, in some way, on role models?
I don't have a single role model, but strongly believe that every person I've been meeting was there for a reason. So, I'm trying to learn from everyone around me, and often it's what I shouldn't be doing.
5. What is your source of inspiration?
My kids, ocean, music, and theater.
Corporate Profile Questions
6. What makes BooXkeeping Franchise different?

BooXkeeping is a business solution that redefines the bookkeeping industry with focus on small to medium-sized businesses. BooXkeeping simplifies the process of recording financial transactions saving businesses time to focus on their passion and achieve their financial goals. BooXkeeping franchisees are dedicating themselves to ensuring their clients have full accessibility and understanding of their financial records so no extra time or effort is necessary.

7. What is your primary service offering?


We are an established brand known for producing quality bookkeeping solutions. Our low-cost, part-time or full-time business model is your unique opportunity to join a team that supports and guides your franchise.
8. Who are BooXkeeping Franchise customers?
A BooXkeeping franchise is ideal for:
a first-time business owner like a recent college graduate or retiring professional seeking a flexible part-time,
stay-at-home parents;
active military spouses and veterans;
an individual eligible for the United States E-2 Investor Visa.