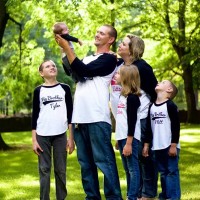 Please explain you day-to-day role at Cunningham Lawn Care.
I pretty much wear all the hats of running the business. I run the office, provide customer service, and perform the services requested by customers. I usually have one or two team members assist in the service side once our seasonal business picks up.

How did you arrive at Cunningham Lawn Care?
I founded the lawn care companies Сonway in 2010. I was just looking for something that could provide a little side income at the time. I found that I really enjoyed this kind of work and over the years I slowing grew it to a full time operation.

What motivates you most to achieve business success?
This actually involves several angles. I would say its a combination of filling a need for customers that results in job creation and financial freedom. Plus I absolutely hate giving up on something.

Is your blueprint for success based, in some way, on role models?
Yes, Dave Ramsey. How he handles personal finance and business, and the environment that he creates for his team members.

What's your source of inspiration?
Primarily my family.
Corporate Profile Questions
Who's Cunningham Lawn Care (corporate profile)?
General Business Activities
Cunningham Lawn Care has been established as a landscape and lawn maintenance company in Central Arkansas. Our traditional business model is based on residential and commercial customers in need of lawn mowing services and general landscaping services such as planting and flowerbed mulching. Based on the decision of the company to diversify our services; we have now established relationships with other companies that primarily handle services that we don't, but still relate to landscape or lawn maintenance Conway. The primary benefit of doing this, is the customer can be taken care of on all sides and can simply pay one monthly bill. We simply manage all of the services. The revenues of our company are expected to be nearly $10,000 per month depending on the variables that are factored in with seasonal outdoor industry. There is a great need for these types of services due to the fact that more people are working long hours and have little additional time to devote to handling these services themselves. In addition to this, our local economy, and the demand for single family homes is growing.

Company Strategy

Purpose
To be a leader in the lawn care and landscaping industry by providing enhanced services, relationship and profitability.

Vision
To provide quality services that exceeds the expectations of our esteemed customers.

Mission statement
To build long term relationships with our customers and clients and provide exceptional customer services by pursuing business through innovation and advanced technology.

Core values
• We believe in treating our customers with respect;
• We grow through creativity, invention and innovation;
• We integrate honesty, integrity and business ethics into all aspects of our business functioning.

Goals
• Regional expansion in the field of lawn and landscape maintenance and develop a strong base of key customers;
• Increase the assets and investments of the company to support the development of services;
• To build great reputation in the field of lawn care and landscaping,  and become a key player in the industry.

Scope of Work
Cunningham Lawn Care performs lawn mowing services, planting, mulching, yard debris cleanup, and flower bed installations. With the additional business relationships we have established we can now subcontract fertilizing with weed control, irrigation startup and shutdown, irrigation repair, lawn pest and disease control, and mosquito control.

Financial Considerations
The company expects to reach the desired profits within the next two years and does not anticipate serious cash flow problems. We believe that the average profitability percentage per year will remain consistent over the next several years since we are running cash based and avoiding debt if possible. We are also reducing costs where it makes sense. This approach is anticipated to offer moderate growth, minimal financial liability, and slowly build cash reserves to better sustain seasonal and industry fluctuations.
General Business Activities What makes Cunningham Lawn Care different?
We strive to provide exceptional customer service and provide attention to detail. A very common complaint we hear among our new customers is that their previous provider either did not return phone calls or simply didn't show up to do the work on the specified day. We make sure that we get back to the customer the same business day and show up on the specified days. We are also becoming a one stop shop for all lawn care and landscaping related services which increases customer convenience.
What are your primary product and/or service offering? - Lawn mowing, landscape maintenance and installation, irrigation service (not new installs), fertilizing with weed control.

What are your primary geographical markets?
Conway, Vilonia, Greenbrier, Plumerville, Mayflower, Maumelle, North Little Rock, and Little Rock in Arkansas.

Who are Cunningham Lawn Care's customers?
Busy families that own homes, property management companies, and commercial property owners.

When did you get your first website online?
2010

How important is your website to generate sales leads?
Extremely! We only market online. Yellowpages, newspapers, sponsored school sports just don't produce an ROI anymore.